Mamod Minor 2

Included in a range of seven toy steam engines that were manufactured before the Second World War was a model that appeared briefly during the latter part of 1939, and had disappeared by the time the factory had stopped production sometime in 1940.
The engine in question was a twin horizontally opposed cylinder overtype model.
This particular engine had a production run thought to be less than 100, but in reality was probably limited to just a few dozen units. Of these just a handful are known to have survived.
To give you some idea of how rare these engines have become: the grandson of the original manufacturer had not seen one of these engines until the mid 1990's, over fifty years since they were produced.
The "MF Twin" Replica Horizontal Stationary Steam Engine
MF Steam are proud to offer for sale the MF Twin replica engine that has been inspired by a range of toy steam engines made in England both before and after the Second World War.
The MF Twin evokes memories of one of the rarest and most sought after models.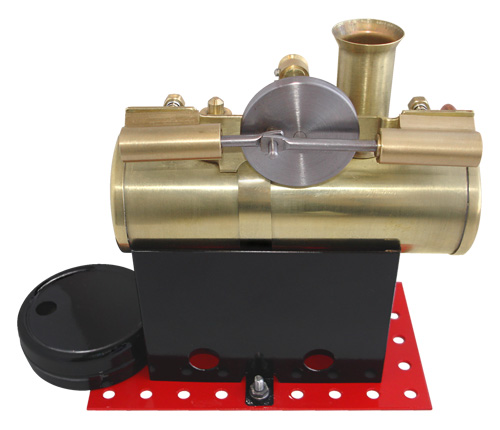 The MF Twin limited edition replica features
Hand made in England by skilled craftsmen using only the best quality engineering materials
Production run of only 100.

Check the availability below

The boiler is made from heavy gauge solid drawn brass tube with lipped end caps for extra strength, and fitted with a brass spring-loaded safety valve
The engine frame is a brass pressing with the cylinders being machined from solid brass
The base plate measures 4" X 2 1/2" and has been drilled to suit metal construction sets
Overall height of 4 1/2"
Finished in quality stove enamel paint
The base plate is signal red. The boiler mount and burner are gloss black
Fully tested on compressed air
Single wick spirit burner
Packaged in a solid card box that recaptures the style of the Pre-War era
Each MF Twin is individually engraved on the engine mount with its edition number showing that it is a genuine
MF Steam product.
This engraving will also prevent it from being passed off as an original pre-WW2 product.
With such a small production run the MF Twin is bound to become a valuable collector's item in its own right making it a fine addition to any toyshop steam collection.
The MF Twin (with a single wick burner) is priced at only
£175
+ postage.
Price List
Please note
Whilst the MF Twin has been fully tested on compressed air it is not being sold as a working model, it is intended to be a static collector's engine and not a working toy.
MF Steam will accept no liability for damage or injury caused by trying to steam this engine.
MF Twin Availability